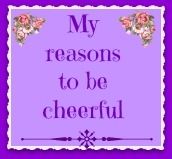 Half term - I didn't really appreciate how tired I was, but it's been wonderful to have a week of not being tied to clocks.
Busy with a purpose - There's a big difference between being busy as a tactic to avoid facing reality and being busy because there are things that need doing in order to move forward.
I've been so busy in the last couple of weeks, but it's been a fantastic time of moving forward for my son and I and we're in a wonderful place.
Walking in the world - I spend a lot of time out and about now and I"m enjoying spending time outside like I did when I was a child and I'm really relishing learning new skills to make my time outside even more enjoyable.
All in all at the moment life is blooming wonderful xx