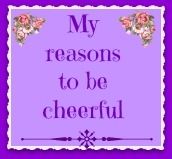 A bit of a weird week this week. It was half term last week and we went to stay with Boyzilla's grandparents. We came on on Sunday evening ready to hit the ground running on Monday, but Boy has been off school for half of this week with a sickness bug. Still, here are my #R2BC:
New Networking
Monday night saw the first meeting of the
Lancaster Social
, a new concept in local networking and a really excellent event. I met lots of new people and got plenty of ideas for things to develop.
Blue Skies
A distinct lack of rain this week and although it's been cold it's been lovely to be able to do a bit of walking.
Carrying on moving forward
Having decided on the direction I want to move in, I've been doing lots of work contacting editors and writing pitches... Exciting.