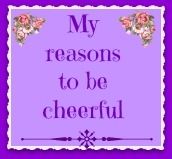 I'm not entirely sure where this week has gone, but here are my reasons to be cheerful.
I bought a new washing line... Yay. My old rotary line rusted through a couple of weeks ago, so I've been drying laundry in my office. The new one is up and working now thank goodness.
Lunch date with Boyzilla... We go to a fast food restaurant once each school holiday and Tuesday was it.
This just makes me smile... I bought a case for my iPad mini
it just makes me smile every time I look at it.
I cleaned out my fridge...
mostly because
#vlogchallenge
required me to do this:
I saw my name in print...
I started writing professionally in 2004, so you'd think I'd have grown out of being excited to see my byline, but it still gives me a buzz. I guess I just never thought I'd actually fulfil a childhood dream.